Xara ScreenMaker 3D
Reviewed by: Lianne Reitter, send e-mail
Published by: Xara, go to the web site
Requires: Windows 98/Me/2000/NT4/XP machines, with at least 32MB RAM and running a Pentium (or faster) processor
MSRP: $14.95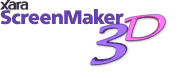 Xara ScreenMaker 3D is a screensaver creator that allows you to use your own photos and text in a 3D environment. OK, I know what you're thinking, "Ooooh, aaaah, a new screensaver. Big deal." Well read on, because the beauty of this screensaver is that it's not only really cool, but used creatively by many different businesses and schools, could help make some money.
The first type of screensaver that can be created is a picture cube which rotates around your screen when activated. Xara ScreenMaker 3D has a very simple interface allowing you to easily pick the number and size of your cubes and the speed at which they rotate on the desktop. Six individual file folder icons represent the six pictures that you want to show on each cube. Just click on each file folder icon and a simple file menu allows you to browse your hard drive for just the right shots. Xara ScreenMaker 3D supports a large variety of image file formats, and even allows you to load up your cube with AVI movie files. You can preview your creation and immediately install it as your regular screensaver or save it out as a separate .scr file for later use. Saving them out in this way allows you to make screensavers for your family and friends as well. They need only copy the .scr file to their Windows system folder and select it as their screensaver from the Display Properties dialog.
The truth is that it's a rare monitor these days that needs a screensaver, and even if you did want to use one why bother paying for it when there are so many to be had for free. Well, never mind the free ones, they are usually garbage, gum up your system and install a dozen other files on your computer such as spyware and the like (and we can all do with a lot less of that). But more important, you have just got to see the 3D text feature of Xara ScreenMaker 3D.
From pulsating and undulating, rocking and wobbling there are as many as 33 different styles for your 3D text, and you can have as many as three lines to write your thoughts on. The quality of the 3D text and effects are spectacular, with smooth graphics, superb designs and punchy colors making every single 3D style an eye-catcher. Now I'm not thinking about text use by your typical cubicle 'droid (sorry if I offend, but as a 'droid myself, I feel emboldened) that wants to have his favorite Star Wars quote tumbling across his monitor, or the office Don Juan who needs to impress his latest conquest with her name scrolling across his workstation. No, I'm thinking bigger. I'm thinking advertising.
If you run small shop, a great display can be set up using any of the 3D text styles Xara ScreenMaker 3D offers. How about you trade show booth operators who need that little extra punch to catch the eyes of the roaming crowds? Office receptionists could have the company name, and a "Back in 5 minutes!" for those times when someone arrives only to find the front desk abandoned for the inevitable bathroom break. You might even have standalone touch screen kiosks in a book store that could be running advertising for the latest bestsellers. Maybe even the not-so-best sellers could get a bigger push out the door with a little help from this screensaver.
Xara ScreenMaker 3D and a little imagination could make the initial pain of having to pay for a screensaver go away in no time. Highly recommended.
Letters to the Editor are welcome and occasionally abused in public. Send e-mail to: whine@kickstartnews.com