Apple Intro New iPods, Headphones & iTunes 8
Apple unleased their new iPods, iTunes and content offerings today at their annual september press conference. Amongst their new offerings were a new iPod Nano and Touch. A change in the line up of their iPod classic and a new iTunes version and content such as HD TV Shows and features like Genius which apparently can generate playlists of songs "that go great together." The HD TV shows on offer will cost $2.99 instead of $1.99 for standard definition content. Apple also claimed to have over 65 million iTunes Store accounts worldwide.


The 160GB iPod Classic has been retired because in Jobs words "No one buys the thick" one, which is funny, because most of my friends who have recently bought one, have bought this exact model. It seems that they will only be offering a 120GB model for an SRP of $249 (£179), and which should be the same size and dimensions as the current 80GB model.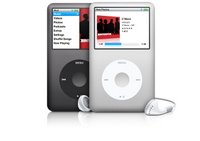 The new iPod Nano was unveiled as "the thinnest iPod we've ever made." and like many of the speculative renderings we were teased with, it does have an oval, tapered shape with a black or white wheel. It also features an accelerometer like the iPhone and iPod Touch for viewing Cover Flow album art, photos, and video when turned sideways. The Nano also has a built-in voice recorder and the ability to shuffle tracks, when shaken.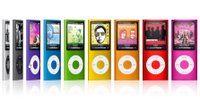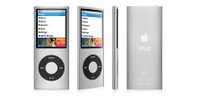 The new iPod Nano also includes an iPhone-like headphone set which comes with a new clicker, volume control, and microphone. The clicker allows you to double-click to skip to the next song, press once to pause and three times to go to the previous song. You can also record voice memos with a microphone on the other side. Costing around $29, the new headphones will be available from next month, there will also be a new set of higher quality in-ear headphones that will have an SRP of $79.


The iPod nano will purportedly have a "great" battery life with 24 hours of music and 4 hours video. The new iPod nano will have an SRP of $149 for the 8GB model and $199 for the 16GB.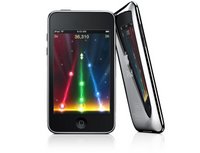 New iPod Touches were also shown and it appears that the new shiny Touch has the same 3.5" display but is thinner with a tapered, stainless steel back. The iPod Touch has the same integrated volume controls on the side, it also features a built-in speaker like the iPhone. Another cool feature is the integration of the Nike+iPod system for tracking running statistics. The new iPod touch will support up to 36 hours of music and 6 hours of video playback off a full charge. Unlike the other new announcements it is available immediately for $229 for the 8GB model, and $299 for the 16GB, and $399 for the 32GB.

Labels: Apple, iPod, iPod Touch 2G, Nano
posted by Mario Georgiou at 6:48 PM